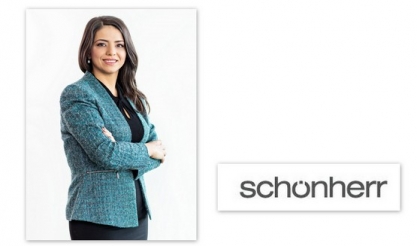 Schoenherr și Asociații SCA advised Nofar Energy on the acquisition of a 73 MW solar photovoltaic (PV) project in Slobozia, Giurgiu county.The transaction is part of the company's announced plans to acquire, develop and install solar PV power plants and wind farms with a total capacity of 1.5 GW in 2023. ...

After years of anticipation and waiting, 2023 appears to be the year in which crypto-assets, as major applications of blockchain technology in finance, will be finally regulated by the European Union ...

RTPR announces new promotions within its team of lawyers.Ana Popa, Andrada Rusan and Diana Dimitriu become Senior Associate, while Lia Ilie and Codrina Simionescu are promoted to Managing Associate.  ...

Global law firm DLA Piper publishes the 2023 edition of its annual GDPR and Data Breach survey revealing total fines issued for a wide range of GDPR infringements and the league table of fines issued ...
Dentons, the world's largest global law firm, advised NEPI Rockcastle on a €60 million green financing for Ploiesti Shopping City from a syndicate of lenders led by BRD Groupe Société Générale ...

International law firm CMS has advised a banking syndicate, led by BRD SG, on a EUR 60m green loan arrangement for Ploiesti Shopping City S.R.L., a company from the NEPI Rockcastle group. BRD acte ...
SAA advised Rockpool on all Romanian elements of the transaction whereby the latter invest ...
Vlăsceanu & Partners (VLP) has assisted Photon Energy Group, at the end of 2022, in conne ...

On 22 December 2022, Law No 361/2022 on the protection of whistleblowers in the public int ...
Very good start of the year for the renewable energy sector.The much-awaited legislative i ...

At the end of last year, Romania introduced numerous tax amendments that entered into forc ...

Dentons, the world's largest global law firm, advised a syndicate of lenders -- Erste Gr ...

On 28 December 2022, the Romanian Government passed Government Ordinance no.186/2022 (GEO) ...
Citeste pe SeeNews Digital Network
BizBanker

BizLeader

SeeNews

in curand...