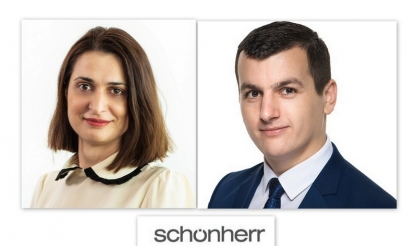 Following the European Commission's approval of Romania's state aid scheme to support small and medium-sized enterprises ("SMEs") and certain large enterprises affected by the COVID-19 pandemic, the Ministry of European Funds adopted the state aid scheme through a ministerial order, in the context of the economic crisis generated by the pandemic. The three funding measures adopted under this programme and detailed below are intended to provide liquidity for the respective SMEs. ...

Stratulat Albulescu is pleased to announce the signing of the lease agreement with One United Properties for our new office space. The space totals 1,150 square metres and is located in the One Herast ...

PNSA and PNSA Tax advised Burda Group on the sale of its business in Romania. . . The transaction concerns the sale of the entire logistics, transport and press distribution business operated by B ...

Schoenherr Romania advised OMV Petrom on all legal matters regarding the extension of an existing partnership with Auchan Retail Romania, to open 400 MyAuchan proximity stores in Petrom filling statio ...
On 4 September 2020, Romania enacted Government Emergency Ordinance no. 153/2020 (GEO 153/2020), which introduces progressive bonifications for companies improving their equity position. GEO 153/20 ...

NNDKP assisted Medima Health, a chain of medical clinics specialized in imaging and radiology, in relation to the sale of the majority stake held by renowned radiology professor Dr Gheorghe Iana and s ...

WDP acquires three new logistics centres Popovici Niţu Stoica & Asociaţii (PNSA) advi ...

Dentons, the world's largest law firm, announces it has appointed Managing Partner Perry ...
Morphosis Capital Fund I, a Private Equity fund focused on Romanian SMEs, announces the cl ...

PNSA advised Auchan Retail Romania in respect of the takeover of the entire chain (more th ...

Mareș & Mareș consolidates its leading position in the area of white collar crime in Rom ...

Deloitte Romania and Reff & Associates, the law firm representing Deloitte Legal global ne ...
International law firm CMS has advised AFI Europe, a leading property investment and devel ...
Citeste pe SeeNews Digital Network
BizBanker

BizLeader

SeeNews

in curand...