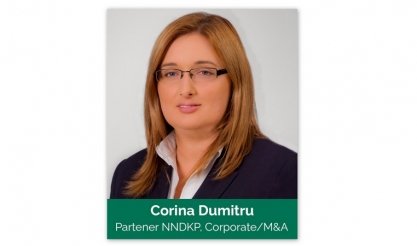 NNDKP assisted Clinica Victoria in the transaction for establishing a partnership with EquiLiant Capital, the investment fund financed by Pavăl Holding, oriented towards investments in small and medium-sized companies. EquiLiant invested in Clinica Victoria, acquiring a minority stake in the company following an increase of the share capital. ...
Debt restructuring measures and the possibility to cancel accessory tax liabilities are still available to Romanian taxpayers, but in order to be eligible taxpayers must notify tax authority by 31 Mar ...

Wolf Theiss Bucharest Partner Bryan W. Jardine has again been selected as a juror for the 2020 CEE Deals of the Year Awards — the most prestigious and sought-after peer-selected awards for the legal ...

Bondoc si Asociatii advised Tapbury (Management) Limited, a leading Irish renewable developer and investor, on the acquisition of a Romanian company which is developing a wind farm project of approx. ...

Nestor Nestor Diculescu Kingston Petersen ("NNDKP") successfully represented a company which is a member of a well-known French industrial group operating in the tools manufacturing sector, in a d ...

 Kinstellar is pleased to announce that it has successfully assisted Ontario Power Generation (one of Canada's and North America's energy giant companies), through its local subsidiary, Canadian ...

Mihai Voicu, Partner at ONV LAW firm in Bucharest has recently been elected as President o ...
On 5 February 2021, the Romanian Ministry of Health launched public consultations on the d ...

The Romanian mobile gaming studio Green Horse Games welcomed Miniclip, world leader of mar ...

Poliana Gogu-Naum, Counsel RTPR, wins for the second consecutive year the Rising Star dist ...

NNDKP has successfully assisted and represented a private company in a dispute resolved by ...
While market's attention has been drawn to the new pre-emption rights and the like intro ...

RTPR announces new promotions in their team of lawyers. Andreea Nedeloiu, Bianca Eremia, R ...
Citeste pe SeeNews Digital Network
BizBanker

BizLeader

SeeNews

in curand...