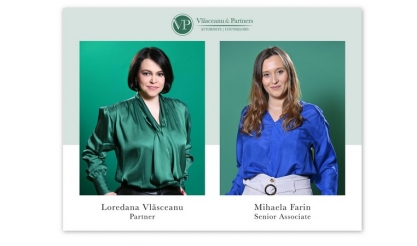 Vlasceanu & Partners has ensured the legal assistance to Ratesti Solar Plant, company owned by Econergy group and Nofar group, in securing EUR 60 million from Raiffeisen Bank International and Raiffeisen Bank Romania in order to finance part of its 155 MW solar project in Ratesti, Romania, out of a total investment cost of €102 million. ...

RTPR has assisted EMI Group, a globally recognised leader in the industrial access systems industry in relation to the acquisition of KADRA, the only Romanian company that offers technical integrated ...

SAA has advised the founders of Respira Verde, a leading company in the collection of used cooking oil in Romania, on the sale of 50% of their stake in Respira to OMV Petrom, the largest integrated en ...

On 21 November, Romania's Official Gazette published the Order of the President of the Romanian National Agency for Mineral Resources (NAMR) for approving the list of perimeters for the concession o ...

In October 2023, the Romanian government enacted Ordinance 91/2023 (GEO 91/2023), which increases royalties from the oil & gas sector in order to ensure sustainability of public finances and efficient ...

This logistics lease adds a significant anchor to ELI Parks's portfolio and fits in the mix of tenants the developer targeted since inception. ELI Park 4, as well as all parks developed within E ...

UniCredit Bank has successfully concluded a new issuance of senior unsecured corporate bon ...
Țuca Zbârcea & Asociații has partnered up with the International Finance Corporation, p ...

Zamfirescu Racoți Vasile & Partners (ZRVP) has obtained in court the annulment of the tax ...

Following the adoption of EGO no. 82/2023 by the Romanian Government on 26 October, the Pr ...

Reff & Associates | Deloitte Legal launches a new edition of the educational project "Law ...

CONCORDIA and Schoenherr are proud to announce that this year marks the 15th anniversary o ...

Clifford Chance Badea, the local office of global law firm Clifford Chance, has advised in ...
Citeste pe SeeNews Digital Network
BizBanker

BizLeader

SeeNews

in curand...