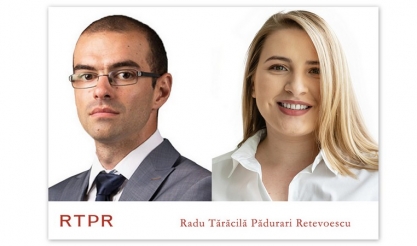 RTPR has assisted Aegon in relation to the sale of its operations in Romania to Vienna Insurance Group AG Wiener Versicherung Gruppe (VIG), as part of a regional deal with a total value of EUR 830 million. ...
Wolf Theiss has advised VIENNA INSURANCE GROUP AG Wiener Versicherung Gruppe (VIG) on all legal and regulatory aspects of its acquisition of Aegon's insurance business in Hungary, Poland, Romania and ...

RTPR has assisted the shareholders of Te-Rox Prod, a Romanian company and a leading European producer of covers and harness systems for child safety seats in relation to the sale of the business to th ...
The Romanian Energy Regulatory Authority ("ANRE") issued a new procedure applicable for the settlement by ANRE of the complaints filed by the existing or future final clients of electricity and ga ...

CEE businesses are increasingly interested in environmentally-friendly and sustainable sectors as areas for future Belt & Road Initiative (BRI) investments, while traditional trade-related sectors suc ...

Kinstellar has advised Cromwell Property Group, a real estate investor and manager, on the sale of A1 Bucharest Park to CEE logistics developer and owner, CTP. This is the largest transaction on the l ...

This fall, three longstanding attorneys of the firm, namely Daniel Alexie, Anca Băițan a ...
On 19 November 2020, Romania enacted Government Emergency Ordinance no. 196/2020 amending ...

RTPR has assisted Banca de Export Import a României (Eximbank) SA as the coordinating man ...
Law firm Zamfirescu Racoți Vasile & Partners (ZRVP) has advised Alro S.A., one of the lar ...

NNDKP assisted CTP, the largest developer and long-term manager of industrial and logistic ...
1.                   Introduction Pharmacy Law no. 266/2008 (the "Pha ...
On 12 November, the ECJ issued its decision in case C-734/19 ITH Comercial Timisoara SRL ( ...
Citeste pe SeeNews Digital Network
BizBanker

BizLeader

SeeNews

in curand...