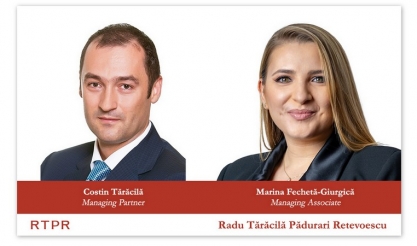 RTPR has assisted the private equity fund Integral Venture Partners on its investment in Medima Health, a chain of medical clinics with a national presence, specialised in imaging and radiology. ...

Reff & Associates| Deloitte Legal obtains, in the administrative appeal stage with the Ministry of Finance, a favorable solution for a taxpayer operating in the agribusiness sector, namely the annulme ...

PNSA has represented a global satellite company in a criminal investigation for tax evasion and money laundering focused on the intra-group transactions carried out for 10 years between companies loca ...

The shareholders of Dacia Plant relied on the legal advice of Wolf Theiss regarding the sale of a majority stake to Belgian-based Ceres Pharma, a pharmaceutical company active in women and family heal ...

Wolf Theiss acted as legal advisor to Emona Capital LLP ("Emona Capital"), a London-based investment firm, on the acquisition of a minority stake in Amber Studio SA ("Amber"), a leading global ind ...

RTPR has assisted Multimedia Est in relation to the acquisition of Hotnews group, one of the most important players in the online news Romanian market. Multimedia Est is an independent film production ...

RTPR has advised the founders of Qualitance, Radu Constantinescu and Ioan Iacob, in relati ...
On 27 September 2022, the Romanian Competition Council (RCC) launched a sector investigati ...

The multidisciplinary team made of lawyers specialized in tax disputes from Reff & Associa ...

On 1 September  2022, the Romanian government published Emergency Ordinance no 119/2022 ( ...

Despite facing a far more difficult deal environment, 73% of dealmakers expect the level o ...

RTPR has assisted the European Bank for Reconstruction and Development (EBRD) in relation ...

SIMION & BACIU is proud to announce that it is the winner of the Trademark Firm of the Yea ...
Citeste pe SeeNews Digital Network
BizBanker

BizLeader

SeeNews

in curand...