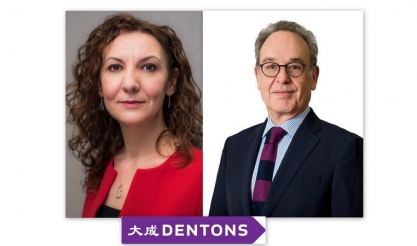 Dentons, the world's largest law firm, has hired seven lawyers to strengthen its Banking and Finance practice in Bucharest and across CEE. ...

Stratulat Albulescu has assisted Bourbon Black Sea in relation to the relocation of their offices in Pipera Business Tower, a class A office building located on 6E Dimitrie Pompeiu Boulevard, in one o ...

The property, located at 21 Tudor Arghezi Street, in the vicinity of Universitatii Square in downtown Bucharest and which sits on a 1,507 sq.m. parcel of land, was acquired by Hagag from the property ...
Romania recently enacted secondary legislation for the implementation of EU Regulation 2019/943 for the internal market in electricity. In December 2019, the Romanian National Energy Regulator (ANR ...

Stratulat Albulescu Attorneys at Law has advised Bog'Art Residential, one of the largest general contractors in Romania, in respect of the acquisition of a 749 sq.m. land plot. The plot of land, ...

act | Botezatu Estrade Partners makes a first round of promotions and recruitment under the new brand. Mihaela Posirca, a highly skilled real estate lawyer with over 15 years of experience, was na ...
Stratulat Albulescu is pleased to announce two new internal promotions, effective January ...
Țuca Zbârcea & Asociații obtained a request for a preliminary ruling by the European Co ...

Popovici Nițu Stoica & Asociații (PNSA) is pleased to announce the promotion of Irina Iv ...
Early this January, the government has decided to void some measures adopted almost a yea ...
As of 1st of January Botezatu Estrade Partners joins act legal, a European alliance of law ...

Leaua Damcali Deaconu Paunescu - LDDP have announced that 3 members of the LDDP team are i ...

Popovici Nițu Stoica & Asociații assisted its long-standing client Swedish investment fu ...
Citeste pe SeeNews Digital Network
BizBanker

BizLeader

SeeNews

in curand...