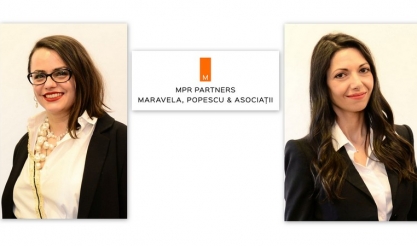 Besides a richer client portfolio and an increase of the mandates number, this first half of the year added new valuable members to MPR Partners | Maravela, Popescu & Asociații's team. ...
On 1 July 2020, Government Emergency Ordinance no. 107/2020 providing for postponement of deadlines in respect to DAC 6 entered into force in Romania and was published in the Official Gazette. The ...

On 25 June, Romania put into place Government Emergency Ordinance no. 99/2020 (GEO 99/2020) approving additional tax measures and deadlines extensions to support the business environment during the re ...

Since the early 1990s, Romania's expanding business sector has made it one of Central Eastern Europe's most dynamic economies, which has attracted a broad array of foreign investment. This rapid gr ...

The financing round was led by Early Game Ventures (an early-stage venture capital firm in Romania investing in startups that create new industries in the emerging markets of Europe) and included  RO ...

KPMG Law – Toncescu si Asociatii together with KPMG Law Rechtsanwaltsgesell-schaft mbH has advised Volkswagen Financial Services  on the legal side of the ac-quisition of the Voya Group. Voya i ...
According to the Romanian Competition Council (RCC), the changes in the draft legislation ...

With growing expectations of a global recession generated by the COVID-19 pandemic, avoidi ...

The High Court of Cassation and Justice maintained, by its decision of 17 June 2020, the j ...
According to several recent media reports, the Technical University of Cluj-Napoca (UTCN) ...
On 11 June 2020, as part of new measures to ease restrictions put in place in response to ...

Stratulat Albulescu is proud to announce the addition of three new members to the Real Est ...

The unprecedented economic crisis caused by the COVID-19 pandemic is severely impacting th ...
Citeste pe SeeNews Digital Network
BizBanker

BizLeader

SeeNews

in curand...