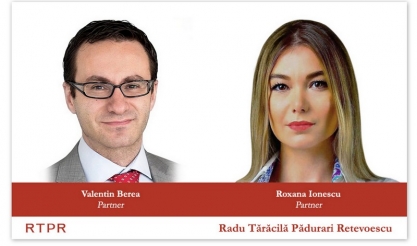 "2022 is a very complicated year in the context of the constant increase of prices. ...

Zamfirescu Racoți Vasile & Partners (ZRVP) provided legal assistance to 45 survivors and persons close to the Colectiv Club victims, in one of the largest and most complex pro bono projects carried o ...

Adservio, the EdTech management platform, has received a EUR 2 million funding from the venture capital fund Catalyst România, with legal assistance from a DLA Piper Romania cross-practice team of la ...
On this complex cross border deal SAA had a double role and acted under a "Chinese Wall" set-up for both the investee (Cyscale) and one of the investors (GapMinder Venture Partners). On the invest ...
With over 17 years' experience, Costin Sandu is highly experienced in advising on transactional, regulatory and legislative work in broad areas like data protection, information security, e-commerce ...

Deloitte Romania and Reff & Associates | Deloitte Legal assisted the Romanian building materials holding ROCA Industry in the full takeover of Dial, a company based in Constanta county specialized in ...

Geopolitical priorities are shifting across Europe and energy is no exception The curren ...

As of 18 April 2022, a new system for authorizing foreign investments made by persons from ...
The funds will be used to accelerate the expansion on the local and international markets, ...

1.       General Relatively recently, the legislative process has once more turned ...

Mușat & Asociații successfully advised the syndicate of banks comprised of Jefferies Fin ...

Reff & Associates and Deloitte Romania provided assistance to Studium Green, the real est ...

Nestor Nestor Diculescu Kingston Petersen (NNDKP) assisted Marcos Provit, a local pharmace ...
Citeste pe SeeNews Digital Network
BizBanker

BizLeader

SeeNews

in curand...